An unexpected encounter on the Coast of Ospedaletti
Domus' history begins about 58 years ago, in the West of Liguria, in a happy family, made of hugs, cuddles, respect, sharing and honesty; mom and dad are serious, they are floriculturists, they grow the most beautiful roses of the Riviera dei Fiori, tall, fragrant, proud.
With passion and integrity, they work every day, comprehending both the effort and satisfaction, and then, there's Aldina. Alda is a 15-year-old, petite, big-eyed girl. She is strong, determined, and resolute and from Dad and Mom she learned responsibility and discipline. 
Alda is excited to start high school, but she has decided to postpone her enrollment. The mother is pregnant, and she will have to take care of the little brother, who will relieve with the affection of a mother and moreover, Aunt Negrina gets sick, and the Alda decides to assist her along with her mother.
Alda loves the sea, in the summer, often she goes to the beach of Ospedaletti, sunbathing and swimming, until one day, she meets an elegant lady and her life changes forever.
The lady, Miss Iolanda, is the owner of the Real Estate Agency Bona in Ospedaletti. She deals with selling and renting houses to residents and to all those tourists, who have been enchanted by the beauty of the Riviera dei Fiori. One of her employees just leaves for maternity, and the elegant lady would like to have the petite and lively girl "the Aldina" replace her; and so, has begun the history of the Real Estate Agency Domus. 
From an employee to a professional in Real Estate
Alda begins her journey in the Real Estate Agency of Mrs. Iolanda. She is skilled, passionate and dedicates herself, as she was taught by her parents. She's young, she hasn't yet the driver's license, so, she goes visit the properties to sell and rent on foot, with her hair tied and a smile which curls her lips. Her customers are becoming happier and happier. They appreciate her manner of doing thing and bring her boxes of chocolate as gift and they give her helpful suggestions. 
Every day is full of satisfactions at the Real Estate Agency and Alda is committed to do always the best, to learn new things and new skills. The owner of the Real Estate Agency, Mrs Iolanda, is her mentor, she enrolls her in a typing course, but not only, she teaches her bearing, elegance, how to deal with customers, how to understand their needs and interpret their desires.
Alda, a lively and determined girl, is transforming into a strong, competent, and aware woman, who is ready to take flight on her own.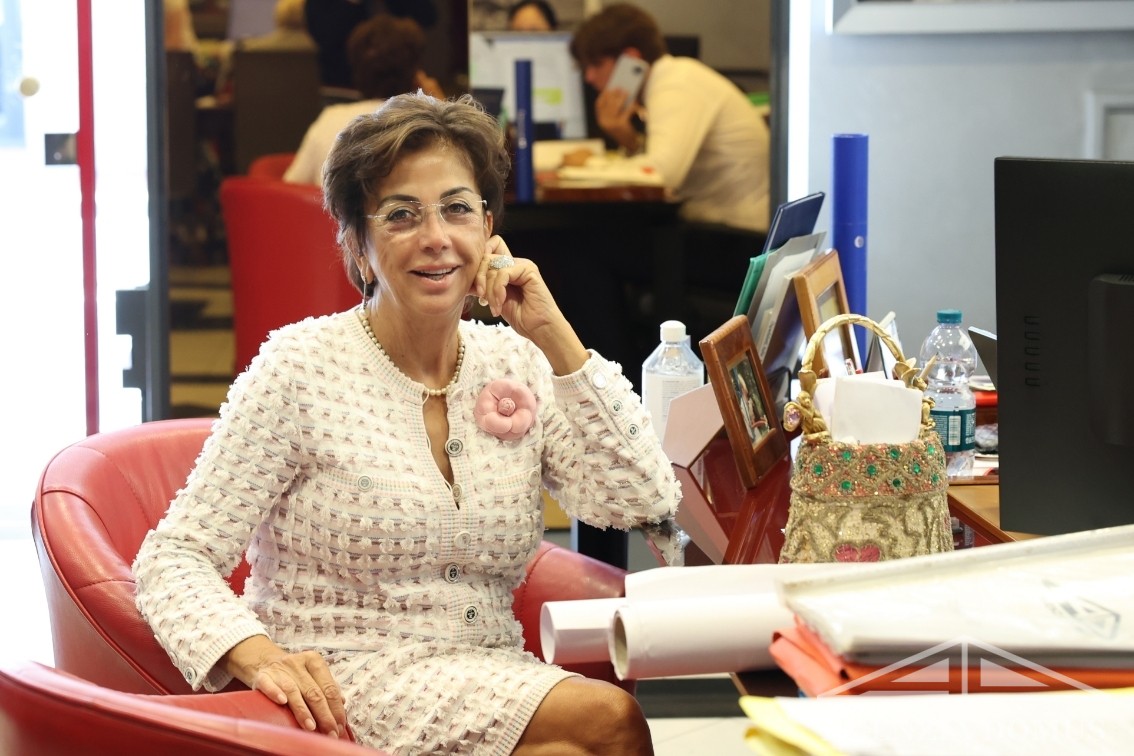 Domus Real Estate Agency: The Ospedaletti's headquarters
On a hot summer day, always on the coast of Ospedaletti, Alda knows who would become her husband, the great love of her life: Mr. Devia, who was then a medical student. Alda is experiencing turmoil in her heart; she is happy and is currently renting a new house in Ospedaletti. The house is nice and spacious, the rent is expensive, and Alda feels like she needs a raise. It's true that she also deserves it: when Mrs Iolanda was sick, the Real Estate Agency was managed by Alda alone, and she sold 12 apartments. But things do not go as the young employee would have hoped, Mrs Iolanda, in fact, refuses categorically to grant the increase. So, Alda realizes that she has reached a crossroads in her working life: it's time to choose. A long breath, she takes courage, and the 21 years old Alda goes away, proud, and brave. She has a strong and resourceful personality, but is also a bit unconscious, as only the bold can be. 
Her man loves her, and her friends support her:
"Alda, you would sell refrigerators to Eskimos! Open your own agency!"  they tell her when she tells them the decision to go away, always in front of the sea, always on the coast of the beautiful Riviera di Ponente. 
Alda gives her life an exceptional twist in just a few days. She disposes of all the necessary materials to prepare and take the exam to get the certification for the profession of real estate agent. Moreover, she rents a room in Ospedaletti, and moves forward. Nothing moves her, not the fears, not the perplexities, in those times in fact, practically there were no Real Estate Agency. 
Not even Mrs Iolanda's husband, who asks her to return for twice her salary, dissuades Alda from her goal. In a very short time Alda founded her Real Estate Agency: "Domus"; Domus means house in Latin; a term, which recalls stability, belonging, but a word that also evokes a sense of family and hospitality.
The following years are a riot for business. Italy is experiencing an economic boom. Modugno and Fellini's films 'Volare' and 'La dolce vita' have attracted tourists, and beautiful houses and spacious apartments have been constructed. These years have been marked by optimism and economic well-being. There is a sudden need for people to have faith and the financial capacity to purchase and rent valuable properties in the picturesque Riviera dei Fiori.


Expansion, passion, family, and Bordighera: the extraordinary growth of the Domus Agency
Alda is a professional, loved and respected in Ospedaletti, but also in Bordighera and Sanremo and her business is constantly expanding.
Moreover, Mr Devia, who in the meantime has become doctor, chooses to leave the medical profession, and begins to help and support his wife in the Real Estate Agency.
Alda also decides to open a branch in Bordighera, in a former atelier whose artist sells paintings, works are kept by Mrs Alda still today.
Doctor Devia has a specialty in construction sites, along with the legendary figure of Terruzzi, who was a trusted person who believed in them. Their collaboration involves expanding the business, designing, building, and creating some of the most beautiful residences and housing units in the entire Riviera di Ponente.

The Domus Real Estate Agency is expanding, and employees be hired, including exceptional girls like Stella, Ada, Monica, and Isabel; Serious girls, dedicated to work, polite, honest.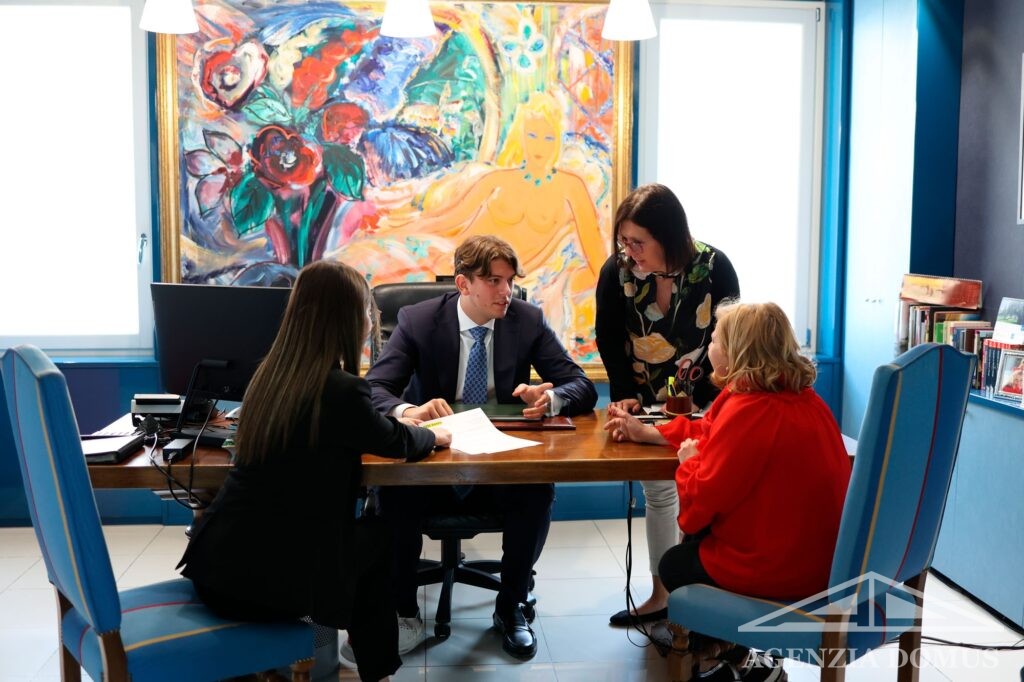 They work every day with Mrs Alda, they meet themselves in the morning, in full harmony to do the cleaning all together, to tell each other about the movie seen the night before at the cinema with the boyfriend, to chat with Fabia, Alda's daughter, who in the meantime is getting older.
The new generation of Domus, which combines real estate elegance and land development: from mother to daughter

Time flows inexorably and we come to the present day, between sold and rented housing and construction sites, which represent true stories of real estate successes. 
Every day Mrs Alda and Dr Devia commit themselves to pass on their passion and competence to their daughter Fabia, who acquires more and more confidence and familiarity, alongside her precious collaborator Ada.
Today marked the end of their wonderful journey in the Real Estate Agency.
The witness has passed to their daughter, Fabia, who along with her son Andrea and with her all-female team, offers a comprehensive and multilingual service regarding the sale and rental of luxury properties, located in the area between Sanremo and Bordighera.
Moreover, with the shipbuilding activity, the Domus Real Estate Agency is committed to promoting and enhancing the territory of the Riviera del Ponente Ligure, developing and giving renewed value to the excellence of the area, first of all the former Hotel Angst, today transformed into an exclusive residential complex, which combines the charm of the past with the comforts of modernity.